Exhibits
Our Exhibits are short collections of documents (typically > 10) from our digital archive, curated by the WFTA team, to provide a quick overview of a particular theme. These would be particularly useful for students who are new to the topic or archival research. We have also included research notes and reading lists for students and researchers alongside each document within an Exhibit to highlight why these documents are important.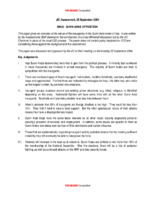 This collection of Joint Intelligence Committee documents discusses Sunni Arab violence following the invasion of Iraq and the removal of Saddam Hussein. Following Hussain's removal, the predominantly Sunni government of Iraq was replaced with individuals who were coalition-friendly and predominantly Shia. This led to the growth of sectarian violence and insurgency within Iraq.
These documents allow us to trace the changing threat of Sunni Arab violence to the coalition over the course of the invasion and subsequent occupation. Furthermore, we are able to understand how and why Sunni violence posed a threat as well as why Sunni Arabs were motivated to oppose the new Iraqi regime.